You've probably seen the ads for the ice barrel – but is is worth the money and should you spend the money to upgrade to the higher end cold plunges?
Here's how to know if the ice barrel is right for you.
What is the Ice Barrel?
The ice barrel is a simple concept. What if – instead of taking a bath – you took an ice barrel? Literally – just a vertical barrel, fill it up with ice and get to cold plunging.
The product doesn't have the bells and whistles of some of the other cold plunge and ice baths that we have featured – but it's grown it's own cult following based on it's ease of use and minimal spatial footprint.
So it is worth your money? We dove in to find out.
Pros & Cons of The Ice Barrel
The Ice Barrel is a different type of ice bath / cold plunge experience and there are some unique pros and cons if you decide to ice bath this way.
Pros
It's much 5x more affordable than most tubs.
It takes up way less space than a traditional plunge.
It ships quickly and is available immediately.
Made in the USA
Cons
It's not a cold tub in the traditional sense.
It doesn't clean itself
You have to refill with ice and water manually.
May not fit larger bodies.
The Ice Barrel Reviewed: Video
We jumped in and put the Ice Barrel to the test to see just what we thought about this cold plunge option (and see if it's really worth your money).
How Much Does the Ice Barrel Cost?
The Ice Barrel keeps things simple. There's one size – it's 42″ x 31″ x 25″ and it costs $1,199.97.
There's no add-ons, different sizes or options. There are some accessories you can grab, but the Ice Barrel itself is simple.
There are often discount codes available (keep reading and find out how to save $100 on your ice barrel order)
Where to Buy The Ice Barrel?
The Ice Barrel is available on the official Ice Barrel website.
Unlike other cold plunges – they ship almost immediately (3-5 days) instead of having to wait 8-12 weeks to get your cold plunge.
This means more cold, more often – we can get behind that.
Budget Pick
Ice Barrel
The Ice Barrel is the best cold plunge for the budget conscious. Super solid and easy to set up a cold plunge wherever you go - the Ice Barrel gets you daily cold plunges for right around the $1k mark.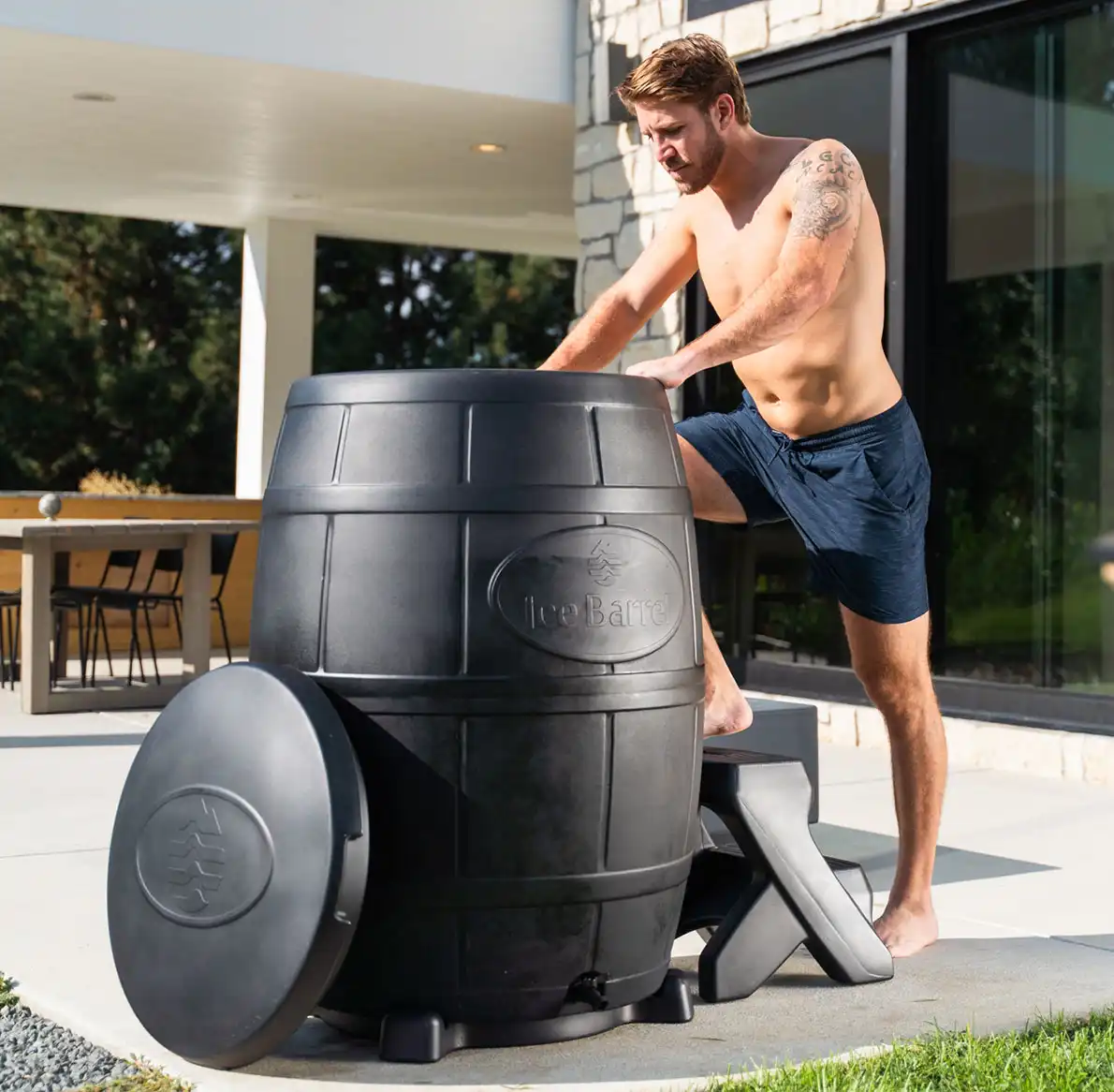 We earn a commission if you make a purchase, at no additional cost to you.
Pro tip: Use code "MOVEWELL" to save $100 on your ice barrel.
Ice Barrel Discounts
You can save $100 on your ice barrel purchase with code "MOVEWELL" – don't say we've never done anything for you 😉